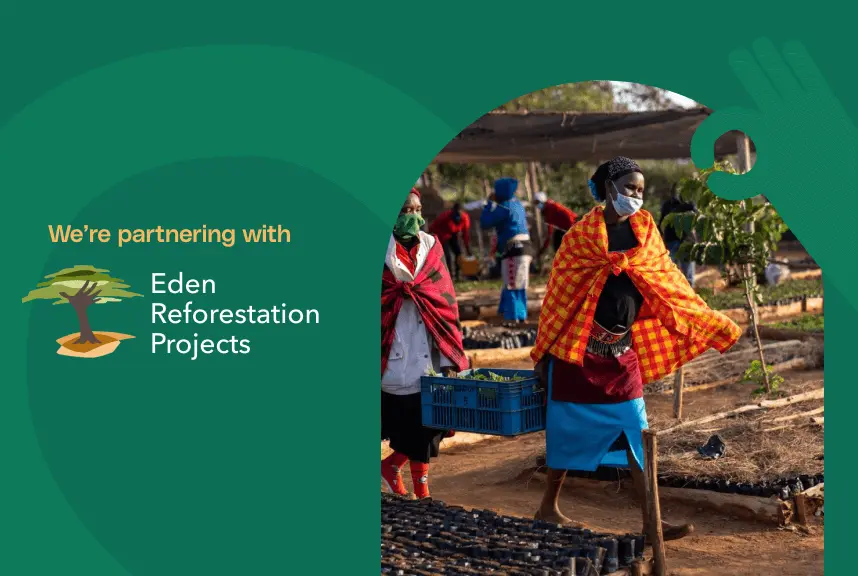 "It takes a village to raise a forest." 
- Found on the Eden Project's home page
There was a time in earth's history when forests made up more than half of the world's land. As the human population soared in the billions, agriculture and commercial demand have brought this down heavily. 
From 2001 to 2019, the earth lost 27% of tree cover. There is a real risk that unchecked forest collection will result in more significant forest loss. The impact is felt heavily in rainforests, which might be gone within 100 years without a substantial course correction. 
Thankfully, the Eden Reforestation Projects are countering this in a big way. 
What is Eden Reforestation Projects?
Eden Reforestation Projects works alongside local communities to plant and protect tens of millions of trees each month. Eden Projects work in remote locations like these:
Mozambique
Kenya
Madagascar
Nepal
Indonesia
Haiti
Central America
Brazil
Eden has planted over 830 million trees in 249 project sites. This high number is inspiring, directly contributing to deforestation issues worldwide. Because of Eden, we might not lose our rainforests. 
The dedicated staff behind Eden works across the globe in dangerous conditions. Despite working around difficult weather conditions, landslides, and other challenging conditions. 
These people sacrifice creature comforts and some safety to keep the world alive. Our team at Ridly is proud to have them as a sustainability partner. 
How Do You Collaborate with the Eden Reforestation Projects? 
Like our other partners, part of our fees goes to Eden Projects. Our collaboration marks three benefits:
100% of CO2 emissions generated during operations (including pickup and recycling) are neutralised
On top of that at least one additional tree is planted per customer 
We recycle 80% of the rubbish we remove, resulting in more contributions to nature.
Any purchase you make through Ridly Rubbish Removal has no impact on the earth. So, when you choose us as your rubbish removal partner, you can be sure that Mother Nature benefits.
Your money will also go towards creating jobs in poverty-stricken areas. For more examples of this in action, keep reading.
Why Eden?
There are many potential reforestation projects in the world. But Eden's holistic approach is what brought us to them. 
Eden focuses on job creation, focusing on an "employ to plant" methodology. This strategy enables them to come into villages with jobs, providing sustainable employment.
The resulting employment helps to end hunger and poverty to the local people. So these people aren't only benefiting from their villages transforming; they are also escaping poverty. 
Giving people the power to combat poverty allows the Eden Projects to solve social and environmental issues. This puts them a step above most other charities. 
In addition, the Eden Reforestation Project is one of the few charities that are 100% audited. They are entirely transparent and accountable for every decision they make. This makes them a truly unique charity for the world. 
How The Eden Projects Work
The extreme success of the Eden Projects comes down to three focuses:
A "bottom-up approach
The employ to plant methodology
Leadership with cultural understanding
Here's how each step works:
A Bottom-Up Approach
To get a solid understanding of this approach, we will go back to Madagascar in 2007. Before 2007, Madagascar had a severe loss of its mangroves, mainly affecting those in poverty. 
This started from the bottom, hiring members of the community who understood the land. This process involved the removal of dead trees, resulting in what was eventually was a thriving mangrove forest in Mahajanga (located on the northwest coast of Madagascar).
Into 2012, the resulting effort created numerous deciduous forests, expanding their work to Ankarafantsika National Park. Inland Madagascar also saw marked improvement needing desperate recovery from "slash and burn" techniques. 
Even when a resulting fire burned six square miles of forest, the local fire department called upon Eden to assist them. Members of The Eden Reforestation Projects arrived in t-shirts and sandals, using their expert training in fire management. 
The Eden Project's most impressive success is Madagascar, hosting 81 project sites with over 664 million trees planted. Nearly 9000 employees also benefit from the fair wages brought by The Eden Project. 
A Closer Look at the Employ To Plant Methodology
The Eden Projects focuses on easy-to-duplicate processes that support local communities. The simplicity of those systems sustains throughout challenging situations, maintaining consistency. 
This quote says it all:
"Our success and the communities' success are inextricably entwined." 
For further examples, check out their stories from the field page. Here are a few excerpts: 
Amélia's Story
Amelia's story relates to being a young mother to two children. After the loss of her husband, she had no income to raise her family. 
She took cleaning jobs at first, but they were not enough to feed her family. However, knowing members of the Eden Projects gave her rewarding work planting propagules at mangrove planting sites. 
While she has to do it in a meter of thick mud, it is rewarding work. This work will leave a legacy for her children and a more promising future.
Nima's Story
The COVID-19 pandemic was brutal on all of us, but Nima had an extreme case. As the owner of a hotel business, she had to shut down after Nepal's lockdown. 
Her family had a small farm that was not enough to feed her husband, two sons, two daughters-in-law, and her grandson. 
With strength and perseverance, she was able to overcome these challenging times. She took a job at the Mude nursery, growing new trees to help Nepal's future. She can see how Nepal's communities grow every day with her effort.
Elephants in the Nursery
The Kenya-based team made the startling discovery that elephants like to eat cement. This came from an attempt to prevent elephants from tromping through the Ol Mariko nursery, as fencing was ineffective at keeping these elephants out (in fact, it did the opposite!). 
Co-existence with local wildlife can be difficult. Creativity came to save the day, as trenches, motor oil, and tobacco leaves helped deter the elephants from destroying fence posts to get to cement. 
Numerous other examples involve everything from mudslides to deterring armed thugs. The Eden Projects is in the thick of everything. Despite that, its dedicated members continue to persevere. 
Culturally-Driven Leadership
The Eden Projects isn't a business like most others. Their day-to-day risk goes beyond forgetting the morning's order of doughnuts. Their leadership shows this example daily. 
Many of Eden's leaders grew up with national exposure. This diverse range of cultural understanding enables them to understand better how to connect to communities. 
Because of this, they have leadership that can integrate easily with poverty-stricken villages. Ths greater understanding enables them to work fast and provide immediate solutions. You can see much of this through the stories of leadership below:
Doctor Stephen (Steve) Fitch
Dr Fitch is the founder and CEO of the Eden Reforestation Projects. He was raised in the Philippines. Upon his leaving and return to the country in 1997, he was struck by the reality of deforestation. 
The forests where he played as a kid were cut down, topsoil sank into the ocean, and smothered coral reefs changed what he knew was his home. He kept this in his heart until 2004 when he took over a seeding nursery in Ethiopia.  The effort restored the natural environment and led to his inspiration of starting Eden in 2005.
Keith Rascher
Mr Racer is the director of expansion and innovation. His desire to avoid the old-fashioned and natural way of doing things made him an excellent fit for Eden.
His most exciting story comes back to being lost in Brazil. Without any radio, provision, or protection, Keith ran through miles of rugged terrain.
A search party tried to find him. However, they found him relaxing at the base upon their return, waiting for the search party's return. 
Alex Kinzer
The international co-director of Eden's Africa team is no slouch regarding effort. During the COVID-19 pandemic, Alex was stuck at a police station n a remote area of Africa. 
Despite the global crisis killing jobs, Alex's efforts spearheaded their mission. Hiring people for fair wages to plant trees and help the environment, regardless of what it takes. 
Alex has a particular talent for finding other talents. Her working knowledge of what it takes to succeed might help explain how Eden is so mission-driven. 
Wrap Up
The number of inspiring stories humbles Ridly Rubbish Removal. There are few charitable organisations like the Eden Reforestation Projects. 
If you can, we heavily recommend that you leave them a donation. Otherwise, you might volunteer if you feel a sense of duty at all costs. 
Any purchase you make through us will allow Eden to plant a minimum of one tree (on top of the trees planted for the carbon neutral certificate of your pick up). So regardless of how you contribute, we can help save the world's trees together.