With 1 in 8 Sydney residents living below the poverty line, we all like to think that we are doing our part to help those less fortunate.
However, for some of us, regular monetary donations can sometimes feel out of reach. If you're one of the thousands of Sydneysiders hoarding old, unwanted clothes, furniture, or household goods, then there is something simple that you can do to help – donate!
Each year, Sydney (and Australia's) biggest charities put callouts to the community to donate unwanted household goods to help those less fortunate. If you're amongst the majority that has troves of unwanted goods around the house, calling a rubbish removal company is a great way to get rid of items that are past their 'best by date'. However, for items that still have some life left in them – donating to charity is a great option.
By donating unwanted furniture and household goods, you're helping to reduce landfill clutter, strengthening social bonds, and making a meaningful difference to the local community.
In this article, we'll outline what you should (and should not) donate, how you can find a local charity, and provide an overview of some of the most popular places around Sydney that you can donate unwanted furniture, clothes, and household items.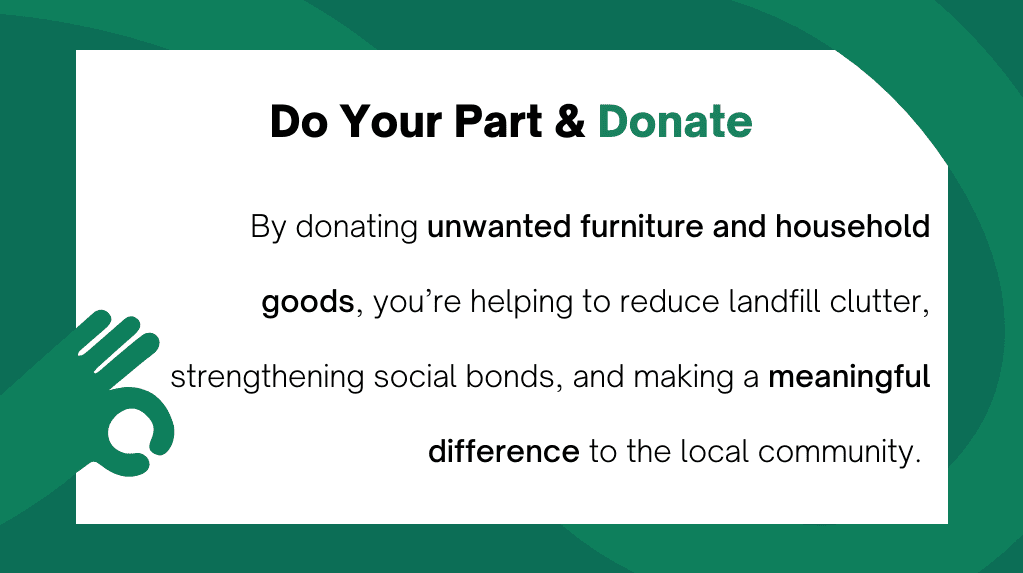 Some Simple Rules for Donating Unwanted Furniture, Clothes, & Household Items in Sydney
We get it: Sometimes you have the best intentions, and you genuinely would love to donate unwanted household items to charity; but you are unsure of what is accepted, what might be inappropriate to donate, and how to make sure your second hand goods will get to those who need it most. You're not alone in being confused by the donation process.
So, we're here to help! As your local rubbish removal company, we've learned through years of experience about the incredible charities that we have here in Sydney, and we wanted to answer a couple of common questions that you might have. Below, we will outline some key considerations and simple rules for donating old furniture, clothes, and household items to ensure you're doing it right, and that those accepting donations can adequately distribute these resources.
Here's what you should consider when you're ready to donate:
Will a Charity Accept My Household Items?
It's important to know that not all items will be accepted by charities. While charities in Sydney are always extremely grateful for the support of the local community, they cannot take in everything that comes through their doors. Therefore, we recommend simply reaching out to your chosen charity to speak to their team and determine if what you have is something they are happy to receive, or if you are better else donating elsewhere/organising a waste removal services.
What Condition Do Furniture, Clothing & Other Items Need to Be In?
Ask yourself: 'Would I be happy to receive this item if I needed it?'. If yes – go ahead, donate! If you're not sure because of quality or deterioration, it might be best to rethink your options. This simple principle will help to figure out if it is appropriate to donate your item to charity or not.
Understandably, charities will not accept items that are broken, torn, faulty or generally in poor condition. Every charity will make their own decision, but as a general rule of thumb, make sure you're confident in the quality and condition of whatever you're donating before your drop it off. If you are somewhat embarrassed in the quality or condition of your clothes, furniture, or homewares, this is probably a sign that you shouldn't donate it.
Four Charities That Accept Furniture, Clothes, & Household Items in Sydney
As Australians, we have a long-standing, strong tradition of generosity. Generally, we're pretty good at looking after each other - we have so many great charities doing incredible work in the Sydney communities. If you're stuck on where to donate, we have outlined four great charities in Sydney that can help find a new home for your unwanted items.
Re-Love
Re-Love is a charity based in Sydney that supports families who need to build a home from scratch due to domestic violence, homelessness, or asylum seeking. They accept high-quality furniture donations from individuals and businesses to help those in need in their community. Re-Love support 15 families every week and are passionate about helping people in need to turn houses into homes.
Is My Item Suitable for Donation to Re-Love?
Re-Love make donating unwanted furniture and household items easy for you. They have a short form on their website where you can detail the item or items that you have, and they ask you to supply an image for context. Their dedicated team of case workers will analyse the details, and they will find a new home for your items.
What Quality Does My Item Need to Be In?
Re-Love accepts a range of household items. Sofas, tables, and chairs are all welcomed, as well as clothing, bedding, books, toys and kitchenware. When contemplating whether the quality is good enough, Re-Love recommend asking yourself a similar question to what we mentioned above – 'Would you give this item to a friend?'. Always ask yourself this question and once the item is only gently used and is in good condition, Re-Love will be delighted to accept it.
How Does the Pick-Up and Delivery Work?
For every charity, resources are limited. As donators and community members, we can do our best to make the life of those in the charity easier, so they can focus on helping as many people as possible in need.
If you are looking to donate to Re-Love, they ask that you deliver the items yourself to their Botany warehouse, which is open Wednesdays and Fridays. Once you have dropped off your items or organised for them to be delivered on your behalf, the Re-Love team will take it from there and find a grateful home.
St. Vincent de Paul Society
Founded in Paris in 1833 by a university student, St. Vincent de Paul has cemented themselves as cornerstone in Australian communities and they have achieved iconic status among our people. In New South Wales alone, St. Vincent de Paul have 229 locations - so there is a good chance you have one close by!
St. Vincent de Paul is run by teams of dedicated employees and volunteers, who rely on the generosity and support of people like you. When you enter a Vinnies store, you never really know what you mind find, but this is a testament to how many quality donations they receive.
What Does St. Vincent de Paul Accept?
St. Vincent de Paul accept a host of good quality, pre-loved items, so it is a great option to consider if you're looking to donate clothes, furniture, or household goods. As with any charity, it is always a good idea to check in with your local store and make sure they are happy to accept your item. However, if the Vinnies team believe it is not good enough to sell, they can sometimes help to recycle, reuse, or distribute the items to communities or countries in need, who would be happy to receive it.
In general, all of the below are accepted in St. Vincent de Paul Stores:
- Books
- Children's Toys
- Clothing
- Accessories
- Sporting Goods
- DVDs and CDs
- Bedding
- Furniture (make sure to check with the stores first. Some do not have the space or resources to accept)
- For legal reasons, only some stores can accept electrical goods, so check with your local store and see if they can accept it and sell it.
The below items are restricted and will not be accepted by the Vinnes Team:
- Stained, broken, or ripped furniture
- Stained, torn, or soiled clothing
- Broken, cracked, or damaged homeware
- Computers, printers, and scanners
- Stained or damaged mattresses and bedding
Where and How Do I Donate to St Vincent de Paul?
The process of donating to St. Vincent de Paul is easy, but it will depend on your location and what you are donating. There are three main ways to donate; by dropping into one of their stores, arranging a pickup, or using the donation bins places across towns and cities in Australia. Many Vinnies stores offer a free pick-up service, but we recommend checking with your local store on their process and availability.
Most likely, you are already aware of where your closest Vinnies stores is. But if you are not sure, the locations of all stores in New South Wales and the process involved in donating, can be found on their website. Here, you can also find out more about the incredible work they are doing in Australian communities and the difference that your donation will make.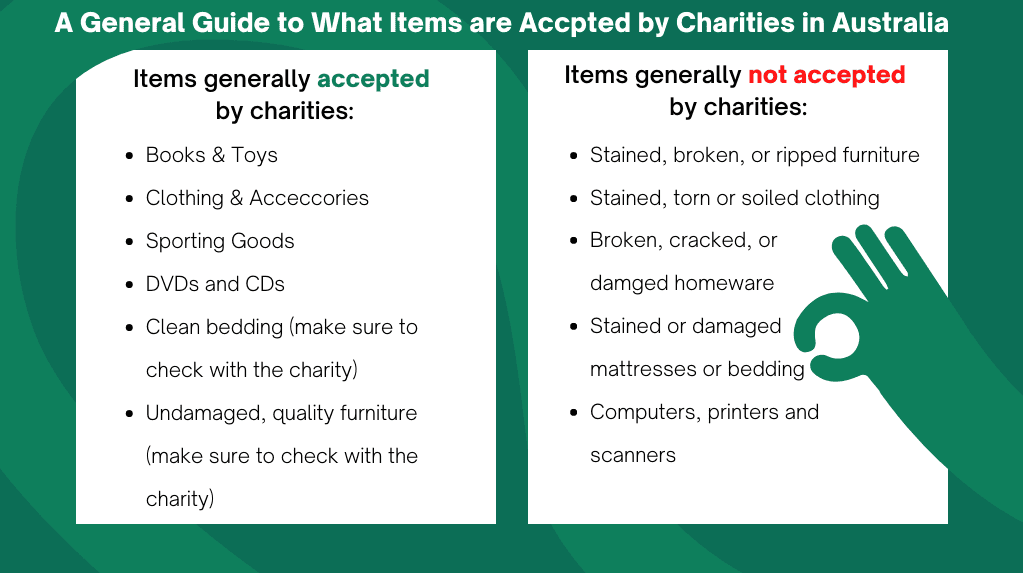 The Salvation Army
'The Salvation Army' is an international Christian movement, united by faith and giving, and dedicated to giving hope to those who need it, when they need it most. Since their foundations in nineteenth century London, the 'Salvos' stores have become a global, well-established organisation and developed community.
Based on values of justice, care and compassion, The Salvation Army are on a mission to transform Australia one life at a time. To achieve this ambitious goal, they offer several services to communities across Australia. Operating Salvos Stores and selling good quality, used times, is a huge contributor and one of the primary factors that allows them to carry out these services.
Donating to a Salvos Store
By purchasing an item from a Salvos Store, or donating your unwanted furniture, clothes, or household items, you are helping their team to make a difference and give hope where it is needed.
What Can I Donate to a Salvos Store?
Ranging from family stores and thrift shops, to the well-known Stavros Stores that you have probably encountered, The Salvation Army accept and sell a full range of quality, used goods including clothing, shoes, furniture, homewares and books. They also accept CDs, DVDs, and electrical goods, but once again we would recommend contacting their teams to confirm before any donation.
What Do Salvos Stores Not Accept?
The team at The Salvation Army ask that you do not donate anything that is damaged, broken, ripped, stained, or faulty in any way. By donating something that is unsellable, this will actually have the opposite of your desired impact and it will cost the charity money to dispose of the item, so make sure to consider this before you go ahead.
Here are some items that Salvos Stores will not accept:
- Building materials
- Computer monitors, scanners, printers & hardware
- Weapons
- Car parts
Like Vinnies, some Salvos Stores may accept larger furniture items, but some won't. If you are looking to donate a mattress or any other larger furniture item, make sure to call ahead and confirm.
How Do I Donate to The Salvation Army?
If it is possible, and the items aren't too big, delivering goods yourself can help the Salvation Army team a bunch. While some Salvos Stores do offer a free pick-up service, this process is not always available, and can end up costing the business more money. The money saved on logistical costs like collections, can be reallocated to other charitable services, so we recommend this where it is possible.
If you are unable to deliver it yourself, you can call their team or visit their website to book arrange a collection.
Pyrmont Cares Inc.
Pyrmont Cares Inc. is committed to reducing poverty across great Sydney by providing furniture, white goods, and household items to those who need it most. Pyrmont Cares focuses on sustainable practices and the environmental impact of their services, so by donating to them, you are contributing towards this great environmental goal.
Furniture donated to Pyrmont Cares Inc. will be used to help people who are unable to furnish their house to furnish it, making this house a home. These people may be refugees, ex-homeless persons, or victims of domestic violence, but regardless, you can be confident that the furniture you donate is making a difference.
What do Pyrmont Cares Inc Accept?
In contrast to the other charities above, Pyrmont Cares Inc. are solely focused on furniture, white goods, and household items to redistribute to their clients. Currently, the following items are what they will accept:
- Chest of drawers
- Bedside tables and coffee tables
- Small sofas and armchairs
- Small dining tables (2-4 Seat)
- Bookcases and shelves
- Electrical goods – microwaves, fridges, freezers, vacuum cleaners, washing machines, heaters, and fans.
Currently, Pyrmont Cares have put a call out for fridges, televisions, microwaves, vacuum cleaners, coffee tables and chest of drawers. Their team have found these to be the most desirable and often provide the most benefit to those in need. So, if you have one of these items, Pyrmont Cares could be the best option for you.
The following items are not accepted by the Pyrmont Cares team:
- Clothing
- Beds
- Mattresses
- Wardrobes
- Soft furnishings
- Office furniture
- Larger sofas longer than 2 metres
How Do I Arrange a Collection with Pyrmont Cares Inc?
Unlike some of the other charities listed above, Pyrmont Cares pride actively promote their collection service and will collect quality white goods and furniture from a range of inner-city areas. All collections are carried out on Tuesdays between 9am and 12 noon, and this can arranged by contacting their team at 0423 751 903 during office hours or emailing them ops@pyrmontcares.org.au.
However, the Pyrmont Cares Team do of course still do appreciate items being delivered to them. You need to first make a prior arrangement, but you can deliver your furniture to their Leichhardt depot.
On the Pyrmont Cares website, you can find all of the information you need, from the locations that they serve and the address for the Leichhardt depot, to the process of arranging a collection and donation. Additionally, here you can find out more about the important work they are doing in Australian communities.
What Should I Do With Items Not Suitable for Charity?
So, now that you know what to do with your donatable items, and where to donate them. But what about the items that are not in good enough condition?
As you can see, there are so many amazing charities in Sydney, doing incredible work for disadvantaged and less fortunate people in our communities who would be delighted to accept your unwanted furniture, clothing, and household items.
If you have quality items to donate, giving them to charities is a fantastic way to offload, and you will be making a significant difference in someone else's life. However, you would have noticed that charities have clear guidelines on what they do not accept. For obvious reasons, if items are too damaged or overused, these cannot then be then given to someone else. Your options are to either take rubbish to the tip, or call in the experts.
Furniture & Household Goods Removal Services
So, what should you do when your items cannot be donated to charity? Simple – make sure that they are removed, disposed off, or recycled in the most responsible way.
Ridly are the experts in furniture removal and recycling - we are here to help and take those unwanted items off your hands.
Big, small, commercial, or domestic – no job is too much for our team. For those items that have been sitting in your house gathering dust, rubbish removal is the ideal solution. We'll have your garage cleaned out in no time! With a range of sustainable services, our rubbish removalists can take your old furniture, clothes or any other household items and dispose of them responsibly and efficiently.
Let us give you a helping hand - reach out to our team of dedicated rubbish removalists and we'll take care of the dirty work!